What do those icons mean?
The "New" flag means it has not been sent to you (or marked manually as seen).

The "Hide" eye means it will be hidden by default on your Listings page.

The "Save" bookmark means a listing has been saved by you.

The warning icon means there are issues with this listing, which you'll see a message about.

The check mark next to the word count indicates the count is in the right ballpark compared to the officially reported number of pages.

Note that a Saved listing will remain on your Listing page (All & Saved) until you un-Save it, even if it becomes Pending or Closed.
---
How do I edit/rename/delete a search?
Click on the search title. Once the search is active and loaded, click again on the search title and a menu will appear. From there you can Edit, Rename, or Delete that search: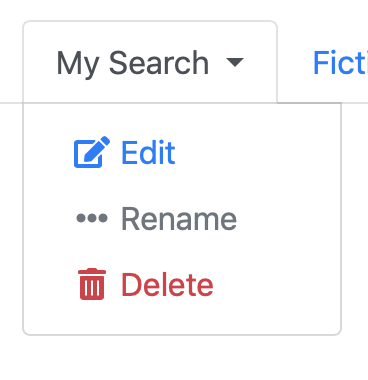 ---
How often is Audiobook Scout updated?
Listings are updated hourly. So you may see listings on ACX that have not yet made it to Audiobook Scout. Some listing details are refreshed once every 24 hours. Before you make any commitments or even audition for a project, I strongly advise visiting ACX and/or Amazon. We do our best, but they are the horse's mouth, and will always have the most accurate, up-to-the-minute information.
---
Why do some books track Sales Rank and others don't?
We track sales rank on titles that meet the following criteria:
Royalty Share + ebook Sales Rank better than 500,000
Royalty Share + ebook published in the last 30 days
Sales Rank isn't relevant for PFH budgeted projects, which is where Royalty Share comes in. The cut-off of 500k or better indicates some recent sales activity (the lower the number the better). Anything worse than 500k means it hasn't had a sale or KU page read in several days, so it probably isn't a good prospect for a Royalty Share deal. Audiobook sales rarely outpace ebook sales.
---
Why did I get a notification for a book I've already seen?
This likely means there was a production offer or deal that fell through, and the book was re-listed as available for audio production. Scout Pro users can check the Listing History section on the Pro page for full details.
---
Why does a book with no rank have tons of reviews?
Most likely the book is free, so it does not have a sales rank. Many first-in-series books are given away by authors and publishers to draw readers into the rest of the (paid) series. Amazon does not give outside access to it's "Free in Kindle Store" rankings, but you can see the free rank on the book's product page on Amazon.
---
Why is there a gap in the sales rank chart?
Once a listing changes to pending or closed sales rank tracking is suspended. A gap would indicate it temporarily had a deal in place that fell through. Check the Listing History section for more details on what happened.
---
Why is this so fantastic?
Hundreds of hours of work by a very dedicated perfectionist. Send help!
---
Is Audiobook Scout an Amazon affiliate?
Yes. Our links to Amazon are affiliate links. As an Amazon Associate we earn from qualifying purchases. A very teeny tiny fraction of any sales from those links come back to support our service and keep subscription prices as low as possible.
---
How do I change or cancel my subscription?
To change your subscription, follow this link, and you should see your subscription, and options on the right hand side. You can also navigate to that page by going to your Profile (the gear icon) and click the Subscriptions link. You'll end up on the same page. Contact us if you need help.
---
Do you have a yearly subscription?
Yes! We now have a one-year Scout Pro subscription. This is a one-time non-recurring charge, and saves 10% off of the monthly plan.
Can you add an amazing feature I just thought of?
Do tell! Seriously… contact us and let us know all about your idea!
---